As long as your diabetes is well-managed and under control,you can donate blood.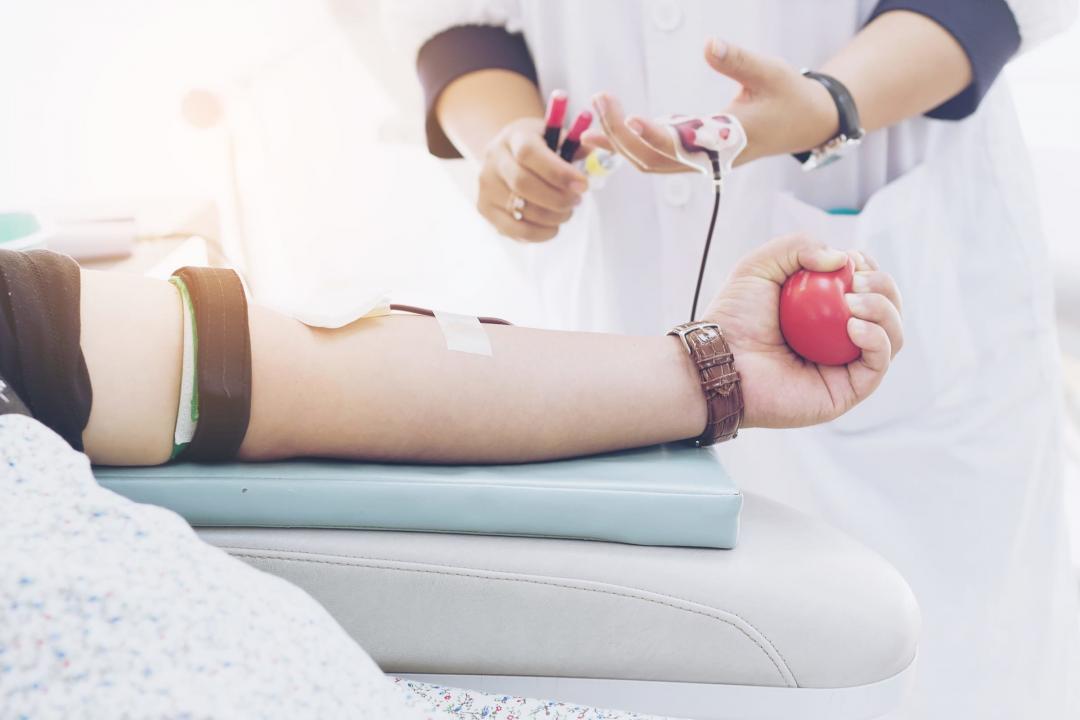 Millions of people around the world live with diabetes or know some one living with diabetes.
Being a diabetic does not mean you can't donate blood, but there are some factors related to your diabetes that could cause you to be deferred.
Factors that may prevant a diabetic from donating :
Blood sugar level :- If your blood glucose level is within your target range and you are in good health, you should be fine to donate blood.
If you are having issues with your sugars and they are not in range , you should not donate blood because blood with too much sugar in it doesn't store well.
Monitor you blood sugar levels after donating and make sure to keep your body nourished by increasing your fluid intake and consuming more iron.
Diabetes should not put you at any greater risk of feeling faint or nauseous while donating, regardless of whether you have Type 1 or Type 2 diabetes.
As long as your diabetes is well-managed and under control, you can donate blood.
Some type 1 diabetes report slightly elevated blood Glucose levels 3-5 days after donating while your immediate levels won't spike or bottom out due to donating it is possible that donating blood may cause your A1C or HbA1C to be falsely lowered. This is thought to be caused by blood loss and accelerated red blood cells turnover.
Recent resarch suggests giving blood may temporarily improve tolerance. Heart attack, stroke and Type 2 diabetes have all been shown to be l;ess common in individuals that regulary donate blood. But according to a new study led by researchers at KING ABDULLAH INTERNATIONAL MEDICAL RESEARCH CENTER (KAIMRC). Just a single blood donation can temporairly improve a person'sinsulin production and glucose tolerance.
KAIMRC pathologist team tested-related those to glycemic status ( the level of glucose in the donor's blood). Insulin production and iron levels were tested before donation and then one day, one week, three weeks and three months aftergiving blood. The results, that regular repeated blood donation is not required, to see a beneficial effect on the donor's glucose tolerance.The glycaemic status of the donor can be improved even after a single blood donation.
Improvements could continue if donor made healthy lifestyle changes after donation.
Recently DR Rani Prem kumar consultasnt at Mulchand Medicity,help andclear, which myths and facts about donating blood are true , and which false.
(a) Myth- Donating blood makes me feel low – ( Fact-False) – However, many people feel that donatingblood makes them feel weak, Again, this is not true. The thread of truth here arises from the fact that ittakes a day or two to relenish the fluid volume in the body and three months for the regeneration of red blood cells to donate more blood.
(b) A Diabetic person can not donate blood ? Fact-Yes -, diabetic on insulin are advised not to donate blood.
(c) Myth- Donating blood frequently can fluctuate my blood pressure and blood sugar levels – Fact – No, the blood pressure and blood sugar level do not fluctuate provided the pre-donation values are within normal limits. A diabetic patient on insulin cannot donate blood.
Unfortunately , people with diabetes won;t-in most cases, be eligible to give blood. At least, not in the UK. This is because NHS blood and Transplant(NHSBT) maintain a policy of refusing blood donation from any body who may be placed at risk by giving blood. In many cases, this includes people with diabetes.
People who have been diagnosed with prediabetes are eligible to give blood, as long as haven't had nay heart problems.
People who take insulin are not allowed to give blood, which excludes both people type 1 diabetes and people with type 2 diabetes who are insulin dependent.
People who take diabetes medication can give blood , as long as their medication has not changed in the last four weeks.
Ideally, if a diabetic is on high medication or he/she is taking ( regular insulin injections and insulin pump therapy), it is advisable not to donate blood to avoid interaction and reaction.
STAY TUNED !